About Filipe Portugal
Choreographer, Dancer, Teacher
Dance Experience
Filipe Portugal was born in 1978 in Lisbon where he studied ballet at the National Conservatory of Portugal.
After finishing his studies he was invited by the director Jorge Salavisa to join the National Ballet of Portugal as a member of the Corps de Ballet. He left the company as a soloist after six years to join the Ballett Zürich under the direction of Heinz Spoerli where he had danced for seven years. He left Ballett Zürich as a principal dancer to return to Portugal with the same category but his stay was only for a short period of time. A year and a half later he returned to Zürich where he is still dancing as a principal dancer under the direction of Christian Spuck.
During his career in both companies he had danced several principal and soloist roles in classical and story ballets such as:
Giselle by Georges Garcia, Patrice Bart, Heinz Spoerli (Albrecht, Hilarion, Willfred)
Sleeping Beauty by Ted Brandsen (Prince Désire, Blue Bird, Gold Variation)
La Sylphide by August Bournonville (James)
Romeo & Juliet by John Cranko, Christian Spuck (Romeo, Pàris, Pater Lorenzo)
Cinderella by Michael Corder, Heinz Spoerli (Ballet Master, Prince's friend)
Swan Lake by Heinz Spoerli , Alexei Ratmansky (Rotbart, Pas de Cinque, Wolfgang, etc.)
Coppelia by John Auld, Heinz Spoerli (Friends, etc.)
Nutcracker by Heinz Spoerli, Christian Spuck (Nutcracker, Spanish Dance, Drosselmeyer)
Midsummer Night's Dream by Heinz Spoerli (Demetrius)
Anna Karenina by Christian Spuck (Alexei Karenine)
Leonce & Lena by Christian Spuck (King)
Woyzeck by Christian Spuck (Professor)`
Der Sandmann by Christian Spuck (Spalanzani)
Raymonda by Marius Petipa (Grand Pas)
Rite of Spring by Nijinsky, Heinz Spoerli
Les Noces by Nijinska
Other Performances
He also danced in several neo-classical and contemporary pieces from choreographers such as:
George Ballanchine (Serenade -Waltz, Duo Concertante, Agon - 1st and 2nd trio, Theme and Variations - Demi soloists, Four Temperaments - 3rd Theme, Allegro Brillante - Solo Couple, Rubies)
Jiri Kylian (Petite Mort, Bella Figura, Stepping Stones, Wings of Wax)
Mats Ek (Sleeping Beauty - Father, Carabosse)
William Forsythe (In the middle somewhat elevated, Artifact, Workwithinwork, New Sleep)
Hans Van Manen (Adagio Hammerklavier)
Nacho Duato (Arcangelo)
Anne Teresa De Keersmaeker (The Lisbon Piece)
Nils Christie (Before Nightfall)
Crystal Pite (Emergence)
Edward Clug (Hill Harper's Dream)
Kevin O'Day (Aract)
Douglas Lee (A-Life)
Martin Schläpfer (Forellen Quintett)
Heinz Spoerli (Goldberg Variations, Cello Suites, D.Juan, Elements, Songs of the Earth, etc.)
Christian Spuck (Sonett, Mesa de Requiem, Winterreise)
Rui Lopes Graça (Savalliana, DeSete, Llanto, Dançares, etc.)
David Fielding (Frates, Bomtempo, etc.)
Vasco Wellenkamp ( A Chuva cai na poeira com no poema)
Cayetano Soto (Rite of Spring)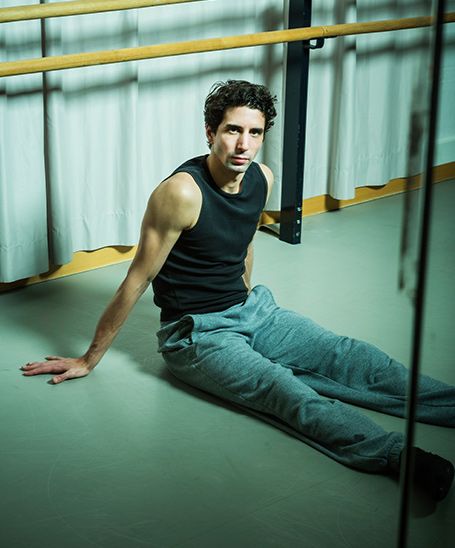 Choreographic Experience
Dedication, commitment and innovation.
He made his debut as a choreographer in Portugal for a choreographic workshop with the piece "Anfractus" (2001), which was chosen to become part of the company's repertoire. After that he has choreographed "Alleged Dances" (2007) for the Junior Ballet Zürich, "Road B" (2007) for Zürich Ballett and "Sonata" (2008) again for the Junior Ballet, all under the direction of Heinz Spoerli.
Under the direction of Christian Spuck he created for the Young Choreographers a piece called "Silk Road" (2013) and got asked to create a duet for the Sylvester Galla 2013, "Liebestod". The year after he created another piece for the Young Choreographers "Different Trains" (2014), this time he got invited to create for the Junior Ballet Zürich, "Tauwetter" (2014). After that he made his first creation for Ballet Zürich under Spuck's direction, called "Diaologos".
Filipe Portugal also created "Masquerade" in 2015 for the Zürich Opera Ball and two pieces for the Dance Academy Zurich (TAZ) under the direction of Oliver Mats and Steffi Scherzer "Uncontrolled" (2015) and "Piazzola"(2015).
In 2017 he created a duet for the Junior Ballet Zürich "Behind the Mirror" and for Ballett Zürich "disTANZ".
The year of 2018 was the year of his North American debut with the piece "Stepping Over" that he created for the Charlotte Ballet company. He also created "Heavy Lightness" for the evening of Noverre-Young Choreographers 2018 at the Stuttgart Ballet. Right after that he created "O não efémero" for young Portuguese talents and finished recently his last creation for the Junior Ballet Zürich with "Echo of Elements" which opens in June 2019 the Young Talent Festival at the Linbury Theatre in London.
In 2019 creates for the Ballet School of the Opera House Zürich the piece "Under Duress" and for Shanghai Ballet the piece "Thoughts of a Silent Night" performed at the Shanghai International Arts Festival. In December will be premiered the piece "Rencontres" created for the Cannes Junior Ballet and performed at the Dance Festival of Cannes 2019.
For the year 2020 new projects are coming up. "Stepping Over", the piece created for Charlotte Ballet will be danced by the dancers of Ballet Ireland in March 2020 and in June will be the premiere of a new piece created for the BA Contemporary Dance of Zürich.
Ballets created by Filipe and composers
Anfractus - Steve Reich (2001)
Alleged Dances - John Adams (2007)
Road B - John Adams (2007)
Sonata - Cesar Franck (2008)
Silk Road - Fazil Say (2013)
Liebestod - Richard Wagner (2013)
Different Trains - Steve Reich (2014)
Tauwetter - Phillip Glass, Max Richter, Samuel Barber (2014)
Masquerade - Khachaturian (2015)
Uncontrolled - David Lang, Philip Glass, Hildur Gudnadottir (2015)
Piazzolla - Astor Piazzolla (2015)
Dialogos - Nik Bärtch (2015)
Behind the Mirror - Shostakovich (2017)
disTANZ - C.P.E.Bach, W.F.Bach, J.S.Bach (2017)
Stepping Over - Philip Glass (2018)
Heavy Lightness - Arvo Pärt (2018)
O não efémero - Abel Korzeniowski, Arvo Pärt, Maxt Richter, Ólafur Arnalds (2018)
Echo of Elements - John Adams (2018)
Under Duress - Philip Glass (2019)
Thoughts on a Silent Night - Jean Sibelius (2019)