Kaffee-Ecke mit Filipe Portugal
Interview by Opéra Magazin
MEET THE ARTIST BEHIND THE CREATIVE WHEELS OF THE  NEW WAVE OF SWISS BALLET
The audience notices Heinz Spörli's legacy in your choreographies, do you share this opinion?
I think it is normal to be influenced by the choreographers I worked with throughout my career! Each experience makes me keep something from it, a step, a feeling, a breath, things that altogether starts to build my own language. Heinz Spörli was part of my career for a long time so his influence is palpable, but I am sure he is not the only one! I believe that it is a natural way for any choreographer to find his way, and I am still living new experiences as a dancer that still touch me somehow.
In your latest creations, piano and strings were featured intensely. Is this becoming a trademark of your work?
In general, I am probably inspired with compositions for piano and strings but I don't think that it is a trademark of my work! I might have had a period that I was influenced by this type of music but I am always open to new styles of compositions that inspires me.
Do you feel that you got from the dancers the technique and harmony that the public could witness in each movement?
I obviously try to reach in each movement that harmony but is not always happening and sometimes a lack of it feels more interesting to me. I tell the dancer many times, "don't be afraid to look strange or even ugly, I find it beautiful".
Many choreographers are inspired by the music, dancers' technique and talent, scenography, stories or past experiences. What's Filipe's inspiration to create?
I normally start with the music! Finding the right music for the choreography I am going to create can take time. Of course, knowing the dancers beforehand also helps me to look for the music! Then, when I finally have it after listening to it a thousand times, the piece beginsto take form in my mind, the dancers appear in my imagination and the choreography starts to happen. I definitely take a lot from the dancers as soon as I start working with them, they inspire me and I like to accept what they offer me with the steps I give them.  Any kind of dramaturgy, or even a little story usually takes place after I start working with the dancers, sometimes it happens because it just has to! I may have an idea behind that helps me follow a path, but it doesn't need to be visible on the outside.  Story-driven ballets are definitely something I would like to try one day but so far past, or even present experiences are my guidance.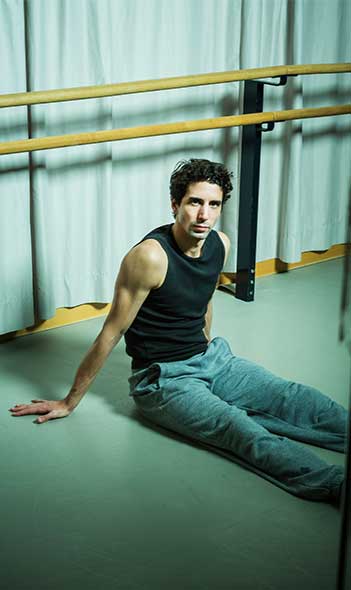 Filipe Portugal in Studio
Foto: Michael Sieber
You have the ability to make the dancer who dances in pointed shoes look as much as the male dancer in solitary. What importance do you give to the roles in your choreographies?
In general I like to work with the ladies on pointe-shoes, I think it is something that we are losing more and more in the ballet world! I also like to put them in soft shoes or socks, it brings a certain heaviness into the movements and definitely gives us ore liberty in motion, but I am open to any options. Each piece is different for me and I think the dancers influenced me a lot into giving them the right importance, and that reflects into the piece, but I share the importances between female and male roles.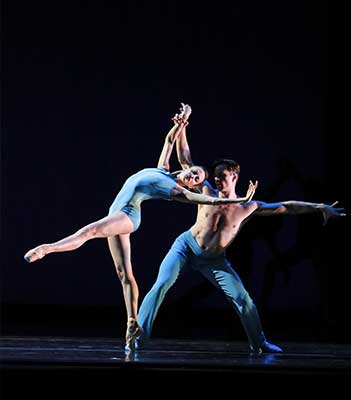 Stepping Over — Ball James & Grant
Foto: Jeff Cravottafix
What's it like to work with your own company's dancers? Do you enjoy true freedom of choice when casting? Are you demanding or do you give them freedom of movement?
The good side of working with my colleagues is that I know them all, their strengths and their weaknesses, which is perfect for me to cast them on the right part! The downside is that it is hard to leave them out of my pieces, but that is something I have to start dealing with, I can't always use them all. Also, the fact that I know them well on a personal level helps us feeling comfortable working together, but it can also be an obstacle for them to take it more seriously, but we try to find a good balance and, in the studio, we are professionals.
Let's focus on a particular piece: 
Regarding the minimalism surrounding the mise-en-scène of Stepping Over created for the Charlotte Ballet, which I thought to be one of the most beautiful pieces I have seen lately. Do you feel that you achieved the technique and harmony from the dancers that the audience was able to witness in every movement?
Nice that you talk about Stepping Over because it was an amazing experience I had! I was somewhat concern ed about it because it was the first time I was going to work with dancers I didn't knew, so regardless that I had the music and started imagining the piece, I didn't have the faces yet so in a way, I was stuck on my imagination. As soon as I got to know them everything started to make sense and the puzzle pieces fell in the right place. They were fantastic, I just had to say it and they would do it right away, no questions asked, no struggle, they would just find a way to do it immediately and that was truly inspiring. It was definitely a great experience that I would love to repeat! I think that as choreographers we will always find something more to explore, there's no ending, the piece should be always alive and reaching further from their own limits, I am sure Stepping Over has grown a lot since the premiere and the more they would perform more they would achieve.
How did you manage to inspire your dancers to achieve such sensitivity in such a technical choreography?
I think the music helps me achieve that personal sensibility and after it I only have to transmit that feeling and use their own skills to reach it through the movement. It is a fascinating task!
To conclude, are you working on a new piece? Are we going to see you on stage soon?
Yes. I am working on a new piece for the Junior Ballet Zürich which premieres in Winterthur Theatre on October 20th. I am using "Fearful Symmetries" from John Adams, which has been inspiring since I first started to choreograph but only now I felt secure enough to create with. Working with such young talents also helped me take the decision of using this composition because of the huge power it transmits, which I am sure the dancers will be able to show too.
Can you relax on your spare time off work or do you feel the itch to create on the train, your home or during vacations?
If I am not actively creating a piece, then I can enjoy my free time without thinking about it, but when I'm working on something all my spare time is used to at least listening to the music, so the piece is alive in my head and starts to take over! I like that anyway, so hopefully I will always have something to think about in my free time.
This interview appears as published by courtesy of Ballettshop Opéra Magazin Q4 2018. You may find more information regarding Filipe Portugal and how to suscribe to the magazine in their respective website.
14 QUESTIONS + 14 ANWERS
TO KNOW FILIPE PORTUGAL
Coffee or tea? Coffee with milk.
Do you prefer day or night? Day.
Sweet or sour? Sweet.
Comedies or drama? Both.
Do you usually judge a book by its cover? No.
House or apartment? House.
Who inspires you the most? People I love.
What instrument would you like to play? Violin.
Which sense you couldn't live without? Vision.
Perfect music? Music that touches me deep.
If you could travel in time, would you go to the past or the future?Past if I could change some of it.
What other language would you like to speak? German, I'm still not good at it.
Do you collect anything? Nice memories.
Are you superstitious? Not really.